Men's Health
YUMMY CUM - Semen Taste Enhancer - Size 60 Capsules
nzsexpills
---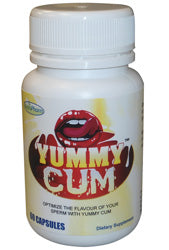 YUMMY CUM   
Price: NZ$43.95 
IMPROVES SEMEN TASTE NATURALLY

Want Her To Enjoy Oral Sex Again: Yummy Cum is specifically designed to optimise the flavour of sperm and semen. Gone is that salty and bitter taste. Only the best fruit extracts go into making Yummy Cum. These extracts  work to improve the sweetness and texture of sperm and semen. It also contains many other beneficial traits, including anti-oxidants to help your sperm body stay a good healthy state.


Yummy Cum Ingrediants:
Pineapple extract

Acai extract

Wheatgrass extract

Cinnamon
Dosage:
take 2-4 pills per day. or 5 at least 3 hours  before a blowjob
Caution:
If you suffer from any health problems or on medications, consult a physician before using.
Results are not the same for all users.
 Disclaimer:
The information on this website is intended for your general information.
It is not a substitute for medical advice from a health care professional and is not intended to diagnose, treat, cure or prevent any disease.
Always consult your doctor or other qualified health care professional with any questions you may have regarding a medical condition.
Do not disregard medical advice or postpone consultation with your health care professional because of information that you have read on this website.
Always read the label of any supplements or natural health products you purchase and use only as directed. Consult a health care professional if symptoms persist.
Related Products
---