HARD MAN TONGKAT ALI - Powerful Male Enhancer - Size 60 Capsules
nzsexpills
---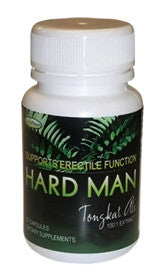 Powerful Male Enhancer Pills
Hard Man Tongkat Ali  is a natural herbal formula that is made from one of the most potent sexual herb known to mankind, Tongkat Ali (Eurycoma Longifolia Jack).  There had been a vast amount of research that had shown that Eurycoma Longifolia Jack contains several phytochemicals (plant chemicals) that help to increase normal testosterone levels, the sex hormone required for normal male sexual function, and the development of the sexual organ and the brain.  HardMan works as a powerful libido enhancer and supports normal erectile function and libido in men.

Dosage:
Take 1 - 2 Hard Man tablets, 60 minutes prior to sexual activity. Hardman will support your normal sexual function and allow you to achieve a rock hard erection.
Hard Man Tongkat Ali Ingredients:
500mg Tongkat Ali (Eurycoma Longifolia Jack) 1:100 extract.  (equivilant to 50,000mg)
Caution:
If you have any heart conditions, serious health concerns or on medication, check the ingredients with your doctor first.
Results are not the same for all users.
Disclaimer:
The information on this website is intended for your general information.
It is not a substitute for medical advice from a health care professional and is not intended to diagnose, treat, cure or prevent any disease.
Always consult your doctor or other qualified health care professional with any questions you may have regarding a medical condition.
Do not disregard medical advice or postpone consultation with your health care professional because of information that you have read on this website.
Always read the label of any supplements or natural health products you purchase and use only as directed. Consult a health care professional if symptoms persist.
Related Products
---